INCLUDAS in Latin means "include!". It is also an acronym for "INCLUsive Digital Agriculture Stories".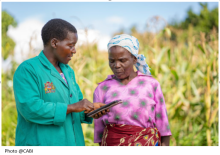 @CABI
The INCLUDAS platform is a dynamic online container giving access to resources that can help small-scale producers and those supporting them to evaluate and benefit from digital agriculture solutions, and solution providers to better cater for small-scale producers. Resources featured here are not definitive solutions or proven tools, but rather good practices, experiences and advice.
Experiences are selected because they are considered inclusive and farmer-fair. See what we mean by that here.
INCLUDAS will initially feature content collected and generated under the Collective Action on Inclusive Digital Agriculture. It is designed to be updated over time and to be used as a searchable catalog with the practical aim of finding resources and advice tailored to farmers. 
Examples of such material are learning resources (from webinars to videos to MOOCs to individual modules); an inventory of existing and recommended best practices, successful experiences, policies, contractual practices and business models; definitions and reference material; and in the future perhaps a database of digital solutions that respond to at least some key inclusion criteria. News and events relevant for the uptake of inclusive digital agriculture are also highlighted. Everything is organized and formatted in an intuitive way; content organization was designed with famers' associations.
In addition, in support of inclusive digital agriculture, a number of learning resources and best practices are targeted at the providers of digital solutions and to researchers and intermediaries, to promote inclusive approaches and foster co-design and co-innovation with farmers. Some resources are targeted at policy makers, to advocate for policy changes to facilitate inclusion and co-innovation. The potential audience for each resource is always indicated.
INCLUDAS contributes to all ongoing efforts to empower small-scale producers as key actors and co-innovators in the design, governance and benefit sharing of Digital Agriculture technologies, data and infrastructures, as well as the promotion and support of pertinent policies and best practices.
In the context of the GFAR Collective Action on Inclusive Digital Transformation of Agriculture, during which INCLUDAT was created, these efforts have the following objectives:
Farmers are empowered to develop business models and negotiate practices that make them benefit from DA.

All actors in the DA value chain are more open to practices and business models that work for farmers.

Thanks to a more farmer-fair DA value chain (technology, money, data, knowledge), farmers embrace DA technologies with full awareness of benefits and challenges, and capacities to negotiate.